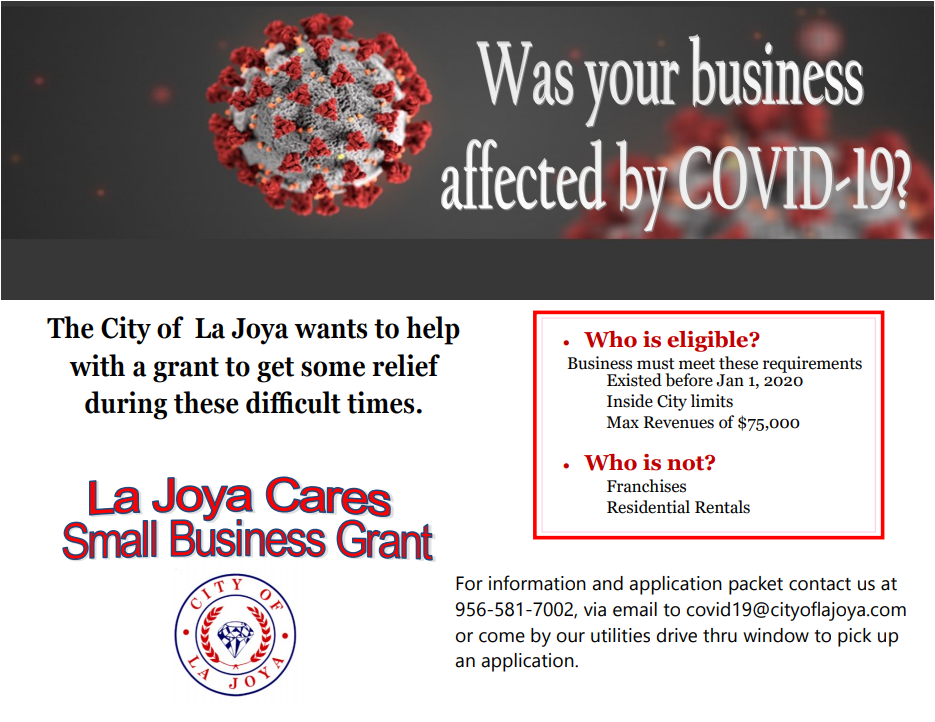 ---

Purpose
The purpose of the Small Business Grant Program (SBGP) is to provide temporary, short-term financial assistance to small businesses located in the City of La Joya, Texas for their operating expenses during the COVID-19 pandemic.

Eligibility
Any Business Entity satisfying the following eligibility requirements may qualify for a grant:
1. Date of Existence: Before January 1, 2020
2.Location: Within City of La Joya corporate limits
3.Maximum Employees: 20
4.Maximum Annual Net Revenues: $100,000
However, the following Business Entities are not eligible for this program:
-Corporate Franchises
-Residential rentals.

Business Entity Requirements
Business Entities will be screened to determine they are not violating any laws regarding:
-Federal/state eligibility
-Criminally liable
-Felonies of moral turpitude
-Nepotism
-Conflicts of interest
Business entities doing so are ineligible for consideration of grant award

Expenditures
Grant proceeds may be used for the following eligible operating expenses:
-Employee payroll
-Mortgage or rental lease payments
-Utilities
-Other eligible expenses
Funds may not be used for:
-Capital expenditures
-Expansion of existing operations
-Personal purposes

Amounts
The City may award $75,000 in grants to small businesses as follows:

| | |
| --- | --- |
| Grant Type | Micro |
| Annual Net Revenue | $0 – 24,999 |
| Maximum Award | $1,000 |
| Grant Type | Middle |
| Annual Net Revenues | $25,000 – $49,999 |
| Maximum Award | $2,000 |
| Grant Type | Maximum |
| Annual Net Revenues | $50,000 – $75,000 |
| Maximum Award | $3,000 |
Business entities only may receive one (1) award under this program.

Prioritization
The following criteria will be used to prioritize grant fund awards:
-Non-essential businesses adversely affected by the pandemic.
-Businesses which previously have not received any COVID-19 assistance.
-Businesses demonstrating substantial loss of net revenues due to pandemic.

Applications
Applications are available at the link below, La Joya City Hall. Eligible Business Entities must complete, sign, and submit applications and supporting documentation to La Joya CARES or via covid19@cityoflajoya.com. Incomplete applications will not be processed.
Completed applications and corresponding documentation must be submitted in person to the City of La Joya CARES or via covid19@cityoflajoya.com.  Date and time of submittals will be documented.
Business Entities must answer all questions in application. Incomplete applications (with or without proper documentation) will be rejected, and are ineligible for funding. Business Entities may resubmit a completed application. All submitted documents become the property of the City and will not be returned.

Assistance
Staff assistance will be available during regular office hours to answer questions or complete applications. This assistance is available via telephone or email. (covid19@cityoflajoya.org)